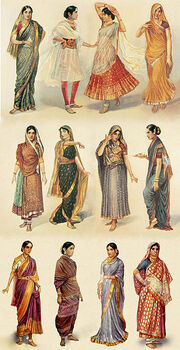 A sari or saree is a strip of unstitched cloth, worn by women, ranging from four to nine yards in length that is draped over the body in various styles which is native to the land of Aryavarta.
The most common style is for the sari to be wrapped around the waist, with one end then draped over the shoulder, baring the midriff. The sari is usually worn over a petticoat (called lahaṅgā or lehenga in the north; langa in Kannada, pavada, or pavadai in the south; chaniyo, parkar, ghaghra, or ghagaro in the west; and shaya in eastern India), with a blouse known as a choli or ravika forming the upper garment. The blouse has short sleeves and a low neck and is usually cropped at the midriff, and as such is particularly well-suited for wear in the sultry summer. Cholis may be backless or of a halter neck style. These are usually more dressy, with plenty of embellishments such as mirrors or embroidery, and may be worn on special occasions. 
I tried to find a video that would demonstrate what a Sari is, but all I could find was videos on how to wear them.  So I picked what was the best one.
Community content is available under
CC-BY-SA
unless otherwise noted.