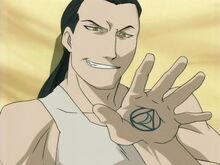 Prerequisite: Alchemist 12
Benefit: The alchemist's bombs do more than sear flesh—they sear the mind. A creature that takes a direct hit from a madness bomb takes damage from the bomb plus 1d4 points of Wisdom damage. Reduce the amount of normal damage dealt by the bomb by 2d6 (so a bomb that would normally deal 6d6+4 points of damage deals 4d6+4 points of damage instead). The amount of Wisdom damage dealt by a madness bomb is reduced by 1 for each madness bomb that hit the target in the past 24 hours, to a minimum of 1 point of Wisdom damage.
Community content is available under
CC-BY-SA
unless otherwise noted.