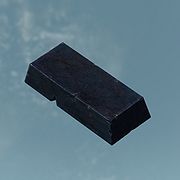 Source: 101 Special Materials and Power Components Copyright 2012, Steven D. Russell; Author Steven D. Russell
HP/inch: 25; Hardness: 15; Cost: ammunition +15 gp per missile, armor and shields +2,500 gp, weapon +750 gp, other items +500 gp/lb.
---
Description
Edit
A scarce metal, the secret of its creation is guarded with a fatal zealousness. This material is primarily mixed with iron and is found as a natural red-orange ore amidst veins of mosaic glass. Naturally brittle, it is hardened by dousing it in a true dragon's blood during its forging. The finished metal has a gold-red hue with an orange, reflective shine.
Chthonic steel has several valuable qualities, including ease of enchantment, its natural sharpness, and the power to absorb magic missiles. Chthonic steel always retains its edge, even when abused, granting it a +2 bonus to the critical conformation roll of any slashing or piercing weapon it is forged into. Chthonic armor and shields negate magic missile spells that target the wearer in a manner similar to the shield spell. Items not primarily of metal are not meaningfully affected by being partially made of this special material. Ammunition made from this special material has an increased market price of 15 gp per missile, armor and shields 2,500 gp, weapons 750 gp, and all other items by +500 gp per pound. Chthonic steel reduces the creation cost of magic arms and armor made with it by 10%
Section 15 - Copyright Notice
Edit
 101 Special Materials and Power Components Copyright © 2012, Steven D. Russell; Author Steven D. Russell